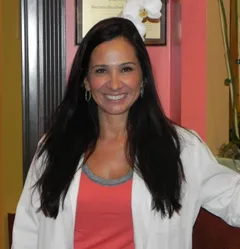 Regarded by her patients as a friend, Dr. Simmons is a kind-hearted, caring individual with a passion for her profession. In order to provide her patients with the best possible standard of care, she continues in her pursuit of further education to stay on the cutting edge of the latest advances in Dentistry.
In 1991, Dr. Simmons graduated from Baylor College of Dentistry in Dallas, TX and began the life of a military wife. Before settling down in California, the Simmons Family lived in Texas, Georgia, Hawaii and Virginia. She is a member of the American Dental Society and she currently holds licenses in California and Hawaii.
She has been married to Lt. Col G. Simmons USMC for over 30 years and is a dedicated mother of two boys, Sam and Eli, ages 26 and 24. Her husband, Greg, served in the Marine Corps as a lawyer for 25 years and a judge for 8 years. They made San Diego their home in 2001 and have no intentions of leaving this beautiful city.